Organ Donor #1 (Pedals)
70s organ, Teensyduino & woodworking.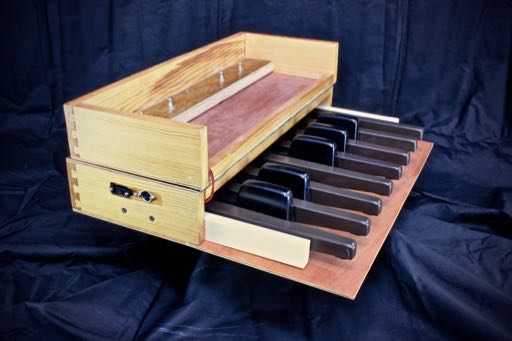 Reclaimed vintage electronic organ pedals recycled into a standalone controller. Case is dovetailed pine and hardwood; circuits are Teensyduino on a custom PCB. MIDI over USB or traditional DIN-5 outputs; status LED with idle 'breathing' effect and synesthetic colour-per-note status indicator.
In the accompanying video Jim Cornick improvises using the pedals, flugelhorn, and synths, using a wide range of their capabilities.
Thanks to Jim, Rick Hewes for troubleshooting circuitry and helping me level up my soldering skills, and to Paul Gilmore of City of Bath College for his woodworking wisdom.
Code on Github. Read project logs on hackaday.io.
Update: this project was featured on Hackaday:

Update #2: this project was also featured in HackSpace magazine: