Organ Donor #2 (Beats)
Sound-sculpture: Transplant-upcycling a 1970s organ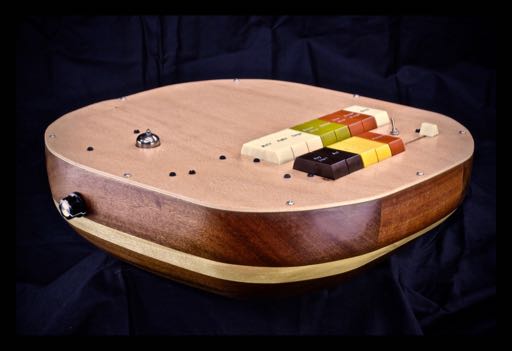 A fusion of vintage electronics and experimental woodworking, this work's form is inspired by the curved shapes of the mbira, djembe and other lap-based instruments. The body is made of alternating layers of Iroko and Sapele, reclaimed from commercial offcuts. Made to be held, the beats circuitry from a 1970s Viscount electronic organ is paired with an internal tube amplifier to introduce some pleasant distortion and slight stereo channel differences (the original beat-generator IC outputs a mono signal).
The Viscount's controls are exposed through the top panel, as is the vacuum tube of the amplifier. A volume control is available on the side panel.
Future work includes a smaller, lighter version based only on the original IC, rather than the whole of the circuitry around it. This would remove the constraint of working with a single-sided, hand-traced PCB loaded with hard-to-identify parts that might give up the ghost at any moment. It would also remove the difficulty of working with three separate PCBs, which isn't something any project should willingly do. A custom PCB holding the synthesis, amplification and power management circuitry would be smaller, more efficient and easier to work with. (That'll come in v2.)
Many thanks to fabrication wizards Graham & Stuart Feasey for generous use of their workshop, wisdom and tea; Rick Hewes for help wrangling electrons; and Barrington Bryan for always having the right tool.
Read project logs on hackaday.io.
Update: this project was featured on Hackaday!

Update #2: this project was also featured in HackSpace magazine!